Archive for the 'wearables' category
DigiLens, a developer of transparent waveguide display technology, says it's working toward a waveguide display which could bring a 150 degree field of view to AR and VR (or XR) headsets. The company expects the display will be available in 2019.
Founded in 2005, DigiLens has developed a proprietary waveguide manufacturing process which allows the company to "print" light manipulating structures (Bragg gratings) into a thin and transparent material wherein light can be guided along the optic and be made to project perpendicularly, forming an image in the user's eye. While DigiLens isn't the only company which makes waveguide displays, they claim that their process offers a steep cost advantage compared to competitors. The company says they've raised $35 million between its Series A and B investment rounds.
While DigiLens' displays have primarily been used in HUD-like applications, the company is increasingly positioning its wares toward the growing wearable, AR, and VR industries. At AWE 2018 last week, DigiLens Founder & CTO Jonathan Waldern told me that the company expects to offer a waveguide display suitable for AR and VR headsets which could offer a 150 degree field of view between both eyes. He said that a single display could be suitable for AR and VR modes in the same headset by utilizing a liquid crystal blackout layer which can switch between transparent and opaque, something which DigiLens partner Panasonic has developed. A clip-on light blocker or other type of tinting film ought to be suitable as well.
Continue reading "DigiLens is Developing a Waveguide Display for 150 Degree XR Headsets" »

Without saying anything this device will let you talk to your computer — https://www.weforum.org/…/computer-system-transcribes-words…
---
MIT researchers have developed a computer interface that can transcribe words that the user concentrates on verbalizing but does not actually speak aloud.
The system consists of a wearable device and an associated computing system. Electrodes in the device pick up neuromuscular signals in the jaw and face that are triggered by internal verbalizations — saying words "in your head" — but are undetectable to the human eye. The signals are fed to a machine-learning system that has been trained to correlate particular signals with particular words.
Continue reading "This device lets you talk to your computer — without saying a word" »

Researchers from the Georgia Institute of Technology have built a flexible, wearable oral sodium sensor that could help monitor a person's sodium intake.
---
A leading cause of hypertension is a person's uncontrolled salt intake. This often results in high blood pressure and heart complications.
As a solution, the Georgia Institute of Technology researchers built the oral sodium sensor that could be easily worn in the mouth to monitor salt intake.
Continue reading "New Wearable Oral Sodium Sensor to Help Fight Hypertension" »

It will still be a while before scientists are able to harness Superman-like laser vision, but the technology is now closer than ever before thanks to a new development from the University of St Andrews. The team there have created an ultra-thin membrane laser using organic semiconductors, which is for the first time compatible with the requirements for safe operation in the human eye. Even though the membrane is super thin and flexible, it's durable, and will retain its optical properties even after several months spent attached to another object, such as a bank note or, more excitingly, a contact lens.
The ocular laser, which has so far been tested on cow eyes, is able to identify sharp lines on a flat background — the ones and zeros of a digital barcode — and could be harnessed for new applications in security, biophotonics and photomedicine. Team member Professor Malte Gather said: "Our work represents a new milestone in laser development and, in particular, points the way to how lasers can be used in inherently soft and ductile environments, be it in wearable sensors or as an authentication feature on bank notes."
Read more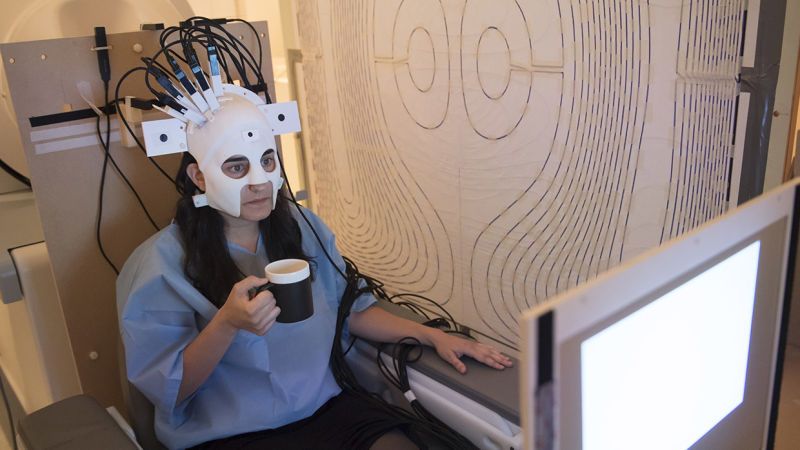 Coming soon: Advanced brain monitoring "while subjects make natural movements, including head nodding, stretching, drinking and playing a ball game."
---
Credit: University of Nottingham ___ This Brain Scanner Is Way Smaller Than fMRI but Somehow 1,000% Creepier (Gizmodo): "It may look like something befitting Halloween's Michael Myers, but the device pictured above is actually a breakthrough in neuroscience—a portable, wearable brain scanner that can monitor neural.
Read more
Monitoring in real time what happens in and around our bodies can be invaluable in the context of health care or clinical studies, but not so easy to do. That could soon change thanks to new, miniaturized sensors developed by researchers at the Tufts University School of Engineering that, when mounted directly on a tooth and communicating wirelessly with a mobile device, can transmit information on glucose, salt and alcohol intake. In research to be published soon in the journal Advanced Materials, researchers note that future adaptations of these sensors could enable the detection and recording of a wide range of nutrients, chemicals and physiological states.
Previous wearable devices for monitoring dietary intake suffered from limitations such as requiring the use of a mouth guard, bulky wiring, or necessitating frequent replacement as the sensors rapidly degraded. Tufts engineers sought a more adoptable technology and developed a sensor with a mere 2mm x 2mm footprint that can flexibly conform and bond to the irregular surface of a tooth. In a similar fashion to the way a toll is collected on a highway, the sensors transmit their data wirelessly in response to an incoming radiofrequency signal.
The sensors are made up of three sandwiched layers: a central "bioresponsive" layer that absorbs the nutrient or other chemicals to be detected, and outer layers consisting of two square-shaped gold rings. Together, the three layers act like a tiny antenna, collecting and transmitting waves in the radiofrequency spectrum. As an incoming wave hits the sensor, some of it is cancelled out and the rest transmitted back, just like a patch of blue paint absorbs redder wavelengths and reflects the blue back to our eyes.
Continue reading "Scientists develop tiny tooth-mounted sensors that can track what you eat" »

Editor's Note: The American Chemical Society is also issuing a press release today embargoed for 5am Eastern Time that can be requested at newsroom@acs.org or call 504−670−6721.
NEW ORLEANS, March 19, 2018 — Up until now, local inflammation and scar tissue from the so-called "foreign body response" has prevented the development of in-body sensors capable of continuous, long-term monitoring of body chemistry. But today scientists are presenting results showing tiny biosensors that become one with the body have overcome this barrier, and stream data to a mobile phone and to the cloud for personal and medical use.
"While fitness trackers and other wearables provide insights into our heart rate, respiration and other physical measures, they don't provide information on the most important aspect of our health: our body's chemistry," explained Natalie Wisniewski, Ph.D. "Based on our ongoing studies, tissue-integrated sensor technology has the potential to enable wearables to live up to the promise of personalized medicine, revolutionizing the management of health in wellness and disease." Dr. Wisniewski, who leads the team of biosensor developers, is the chief technology officer and co-founder of Profusa Inc., a San Francisco Bay Area-based life science company.
Continue reading "Injectable Body Sensors Take Personal Chemistry to a Cell Phone Closer to Reality" »

Researchers at North Carolina State University have developed a new technique that allows them to print circuits on flexible, stretchable substrates using silver nanowires. The advance makes it possible to integrate the material into a wide array of electronic devices.
Silver nanowires have drawn significant interest in recent years for use in many applications, ranging from prosthetic devices to wearable health sensors, due to their flexibility, stretchability and conductive properties. While proof-of-concept experiments have been promising, there have been significant challenges to printing highly integrated circuits using silver nanowires.
Silver nanoparticles can be used to print circuits, but the nanoparticles produce circuits that are more brittle and less conductive than silver nanowires. But conventional techniques for printing circuits don't work well with silver nanowires; the nanowires often clog the printing nozzles.
Continue reading "New technique allows printing of flexible, stretchable silver nanowire circuits" »